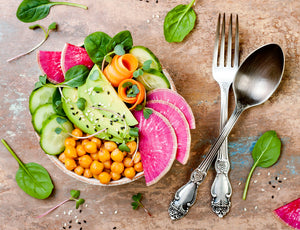 The vegan meal plan is a healthy, nutritional and delicious approach to consuming more plant-based foods. Restricting on all animal products and adding more wholesome fiber rich foods like beans, whole grains, fruits, vegetables, nuts and seeds while keeping a variety of healthy dishes and balanced meals to make sure you are getting the essential nutrients you need to maintain a healthy active lifestyle. Benefits associated with the vegan meal plan may include decreased risk for diabetes, heart disease and certain types of cancer.
Important ordering & delivery information:
Ordering: the deadline to place your order to begin your meal plan for the upcoming week is TUESDAY. Any orders placed after TUESDAY will be fulfilled the following week after.
Delivery: Our deliveries are made 2 days per week on Sundays and Wednesdays. On Sunday you will receive a delivery with your meals for Monday, Tuesday and Wednesday consumption and on Wedneaday you will receive a delivery with your meals for Thursday and Friday consumption.
All meals will be delivered inside insulated cooler bags with added ice packs to maintain the freshness and quality of your meals. All meals will include full heating instructions and nutritional facts information.
Any questions or concerns please feel free call our customer service at 305-305-0513 or email: info@befitnutrition.com
Testimonials
This has been the best meal delivery service I have tried. The quality on and freshness of their meals is amazing.

Ashley G.
Top notch customer service, I received a fast response to all my questions and they helped me choose the ideal meal plan for my weight loss goal, 3 weeks into the plan and I have already lost 10 pounds. 5 stars for them all the way.

Ralph M.
Great company! I've been a customer for the past two years and I'm still going strong with them. I love the variety offer with every healthy meal, always something new. They are also very attentive towards my food allergies and dislikes.

Paula V.